CASE DETAILS
Our innovative system, supported by RFID technology, will provide a crucial contribution to achieving maximum transparency during your entire process.
Cherami's Waves RFID (radio frequency identifier) should be your first choice for sourcing high quality RFID tracking solutions. We use the latest software and tracking technologies to deliver solutions that meet the most demanding requirements. RFID tags are small tags that can be read by wireless, non-contact readers. They are used to track and manage anything of value (such as printed documents, computer equipment, tools and equipment or food products) and people.
FILE, DOCUMENT & ASSET TRACKING SYSTEM
Cherami has developed a passive file tracking system for both private and public organizations.
This solution utilizes Radio Frequency Identification (RFID) which helps to solve the problem of locating and securing all types of asset items quickly when they are needed.
The application allows you to create virtual cabinets, search for files and identify
the RFID tagged labels. This is a tool that can assist in positively impacting service delivery to not only your organization but to other public service servants.
Technology
Passive RFID
What We Did
Application Development
Hardware System Integration
User Interface Designs
Year
2012
Client Examples
Ministry of Works and Transport
Industrial Court
Tobago House of Assembly
TTPS Administrative Office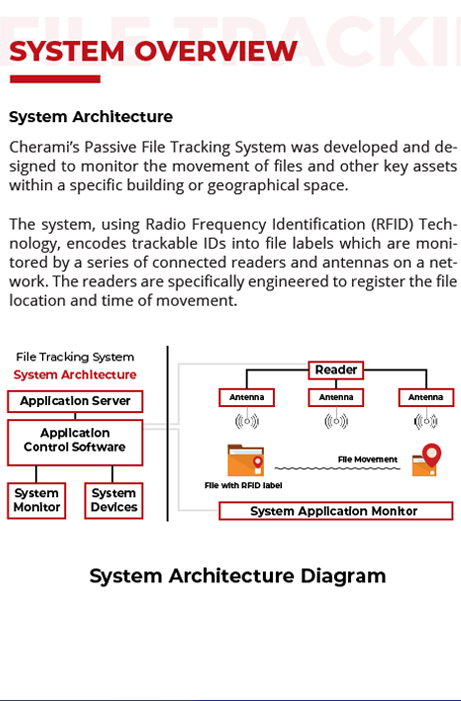 1
How it Works
Cherami's Passive File Tracking System was developed and designed to monitor the movement of files and other key assets within a specific building or geographical space.
2
Competitive Advantages
We offer a wide range of features. Some key features include: 3D Floor Plans, Push pins that would state where the file was last seen, Historical logs of where file has been, Identify Default Storage Location, Identify Max Time outside Storage, Identify Time Outside Storage Zone.
3
First Class Support
For each deployment, we offer a wide range of support. User training, user manuals and 24hrs tech support is available to every client.